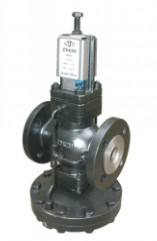 CY41H Series Pilot Operated Diaphragm Pressure Reducing Valve
Applications
1.The valve is an innovation with latest design to depend on different customers needs by the introduction of a high technology.
2.Especially suitable for use with steam, compressed air or other industrial gases,
has a maximum operating temperature of 285℃ and is available in sizes from DN15 to DN150.
3.Typical applications include lowering the pressure of steam from a high-pressure distribution line to the point of use and as an automatic temperature control for
applications such as autoclaves, retorts, and corrugators.
Features
1.Covers downstream pressures from 0.02 MPa to 1.7 Mpa, with variable rate pressure
control spring.
2.Works by balancing the downstream pressure against the control spring, which then
modulates the main valve via a small pilot valve.
3.The valve can now be changed to an application with a different pressure requirement
without the cost of changing the control spring.
Materials of main parts
Parts
Material
Body
WCB
Cover
WCB
Seat
2Cr13
Valve clack
2Cr13
Pole
2Cr13
Diaphragm
1Cr18Ni9Ti
Adjusting spring
60Si2Mn
Type of connection
Flanged type:RF、FM、RJ
Standard:JB79、GB9113、ANSI、BS16.5、DIN2545、BS4504
Outline dimension
| | | | | |
| --- | --- | --- | --- | --- |
| DN | L | H1 | H | D |
| 15 | 147 | 221 | 133 | 185 |
| 20 | 154 | 224 | 136 | 185 |
| 25 | 160 | 235 | 145 | 207 |
| 32 | 180 | 236 | 156 | 207 |
| 40 | 200 | 238 | 176 | 255 |
| 50 | 230 | 246 | 183 | 255 |
| 65 | 250 | 295 | 200 | 320 |
| 80 | 310 | 323 | 230 | 350 |
| 100 | 350 | 340 | 263 | 380 |
| 125 | 400 | 359 | 306 | 455 |
| 150 | 450 | 375 | 330 | 500 |
Technical specification
Item
15
20
25
32
40
50
65
80
100
125
150
Resistance pressure

(MPa)
2.5
Shell test pressure (MPa)
3.75
Seal test pressure (MPa)
2.5
Max. inlet pressrure (MPa)
1.6

2.5

4.0

6.4

Outlet pressure range (MPa)
0.02~0.3

0.25~0.7

0.6~1.7
Pressure characteristics derivation (MPa)
GB 12244
Flow characteristics derivation (MPa)
GB 12244
Leakage (ml/min)

GB 12245
Medium temp. (℃)
-10~285
Kv.
2.8
5.5
8.1
12
17
28
45.5
60.1
93.3
146
180
chinayongjiu@hotmail.com
trade@chinayongjiu.cn
chinayongjiu