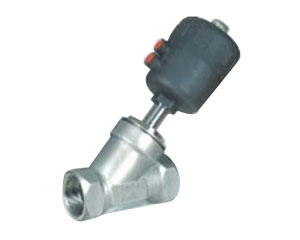 J611F-2 Series Waterhammer-free Angle Seat Valve
Applications
1.The valve is a 2/2-way pneumatically actuated piston valve for liquids, gases,
steam and some aggressive fluids (vacuum services also.).
2.The superior design of the piston is unique to the market, enabling the plug to
retract farther from the flow path, ensuring the highest flow capacity.
3.Widely applied on air drying equipment, sterilizers, autoclaves, pollution
control equipment, process control applications, laundry equipment, textile
dyeing & drying, bottling & dispensing equipment, industrial compressors.
Features
1.Spring return normally closed, single acting.
2.Easy to install, infinitely rotable actuator allows pneumatic connection in any position.
3.With pilot air pressure, zero leakage.
4.Maintenance-free actuator with long-life piston ring and high reliability.
5.50% higher flow rate than globe valves.
6.Many types of connection, such as screw thread, flange, welding.
7.With water hammer-free function
Special order
● Control function: normally open(on request).
● Double acting type actuator with no spring return.
● Electronic position feedback
● Manual emergency switch
● PPS actuator outer shell can adapt to +5~+130℃
● Pilot valve is suitable for Numar adaptor.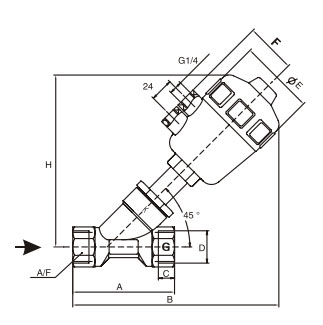 Technical specification
Item

Parameter

Nominal diameter (mm)

15

20

25

32

40

50

Orifice size (mm)

13

20

25

32

40

50

Kv (m3/h)

4.2

8

19

28

42

55

Operating pressure (MPa)

0~1.6

Medium temperature (℃)

-10~+180

Ambient temperature (℃)

-10~+60

Control medium

Neutral gas, air

Leakage (ml/min)

0

0

Seal material

PTFE

Flow direction

Below seat
Outline dimension
Port size

(G/NPT)

Actuator size

φmm

A

B

C

E

F

H

A/F

Max. Operating pressure (MPa)

Min. Pilot pressure (MPa)

1/2

φ50

85

173

12

64

44

137

27

1.6

0.40

3/4

φ50

95

178

12

64

44

145

32

1.1

0.40

1

φ63

105

212

14

80

52

173

41

1.1

0.42

11/4

φ80

120

255

16

101

60

210

50

1.5

0.50

11/2

φ100

130

301

18

127

73

260

55

12.5

0.44

2

φ125

150

346

20

153

86

301

70

1.0

0.32
chinayongjiu@hotmail.com
trade@chinayongjiu.cn
chinayongjiu