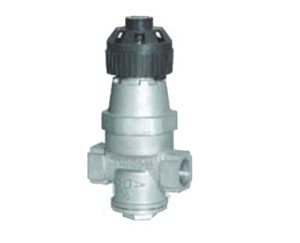 CY14H Series Direct acting Pressure Reducing Vavle
Applications
1. The valve is an innovation with latest design to depend on different customer's needs.
It is for all-directions installation in the pipeline, suitable free and continuous working conditions.
2. Especially suitable for steam.
3. Widely applied on purified, food, dye, cloth industries, greenhouse machinery, sterilizers etc.
Features
1. Stable pressure reduction: Sensitive and wide range pressure reduction.
2. High reliability: Use special material in the making of bellows and install an extra filtration device.
3. Long life: Adoption protective overloading tension measurement to prolong work life.
4. Easily operation: easy adjustment by turning the plastic handle, easy maintenance.
5. Light weight and small dimension.
Outline dimension
Model

Size

Port size

DN

L

W

H1

H

CY14H-15

G1/2

15

90

64

44

137

CY14H-20

G3/4

20

90

64

44

137

CY14H-25

G1

25

100

64

54

137
Technical specification
Item

Parameter

Max. temperature (℃ )

≤220

Max. inlet pressure P1 (MPa)

1.6

Outlet pressure range P2 (MPa)

0.05~1.0

Max. reducing rate P1: P2

10:1

Min. (P1-P2) △P ( MPa)

≥0.07

Flow rate (Kv)

0.9

1.6

2.6

Port size

1/2

3/4

1

Sealing

After closing the valve, the pressure rise to amounting ≤0.07MPa
chinayongjiu@hotmail.com
trade@chinayongjiu.cn
chinayongjiu