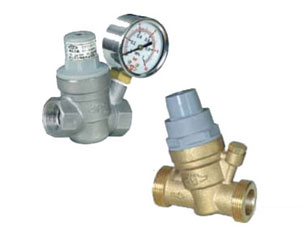 CY11X 、CY21X Series Pressure Reducing Valve
Applications
1. The valve is a kind of direct acting and automatic pressure regulating valve.
2. Especially suitable for water or compressed air.
3. Designed for both industrial and domestic applications,
it is widely used in various kinds of fields, including purify, filtration,
foodstuff, printing & dyeing, building water supply, water heaters and domestic systems.
Features
1. Sensitive pressure reduction, steady outlet pressure.
2. With inbuilt strainer.
3. Reliable service and high sensitivity.
4. Compact design, light weight and small volume.
5. With optional pressure gauges.
Technical specification
| | |
| --- | --- |
| Item | Parameter |
| Medium | Water, compressed air |
| Max. temperature (℃ ) | ≤65 |
| Max. inlet pressure P1 (MPa) | 1.6 |
| Outlet pressure range P2 (MPa) | 0.1~0.6 |
| Max. reducing rate P1: P2 | 6:1 |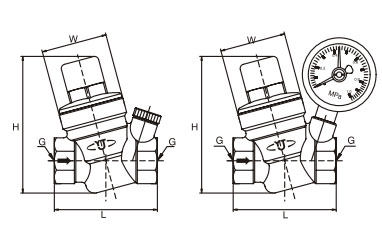 Outline dimension
Model

Size

Port size

DN

L

W

H

CY11X-15

G1/2

15

72

46

95

CY11X-20

G3/4

20

72

46

95

CY11X-25

G1

25

105

54

135

CY21X-25

G11/4

25

95

54

135

CY11X-32

G11/4

32

140

73

218

CY11X-40

G11/2

40

150

73

218

CY11X-50

G2

50

160

73

218
chinayongjiu@hotmail.com
trade@chinayongjiu.cn
chinayongjiu