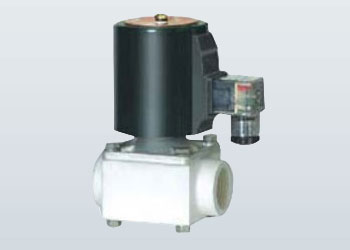 CD-F Series (Past Model ZCF)Direct Diaphragm Solenoid Valve with PTFE body
Applications
It is especially suitable for strong corrosive media, such as all kinds of acid and alkali, hydrochloric acid, sulfuric acid and vitriol.
Features
1. Corrosive Resistance: the valve body is made of PTFE.
the diaphragm is made of special Viton.
Media only contact with valve body (PTFE) and diaphragm (Viton)
2. Non-leakage: seal construction with diaphragm type, direct acting.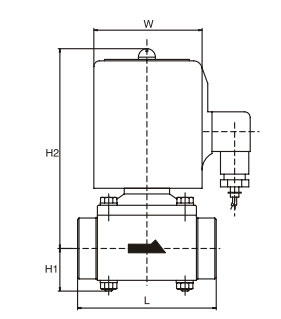 Technical specification
Orifice size (mm)

2

3

4

6

8

10

12

15

20

25

Medium

Corrosive medium, edible medium, hydrochloric acid, organic acid and vitriol.

Medium Temp. (℃)

-10~60 0~+150

Leakage (ml/min.)

0

Power voltage (V)

AC220 DC24 Other voltages are available on request.

Operating environment

Ambient Temp.: -10~+50℃ Relative humidity ≤85%

Operating pressure (MPa)

0.8

0~0.4

0~0.2

0~0.1

0~0.05

Flow coefficient (Kv)

0.08

0.16

0.32

0.54

0.8

1.4

2

2.8

5.0

8

Power consumption ( VA)

20

44
Outline dimension
Orifice size (mm)

Port size

L

H1

H2

W

2(3、4)

Pipe joint

φ10×1

78

15.5

77

φ48

4(6、8)

78

15.5

77

φ48

10

G3/8

85

30

135

φ75

12

G1/2

85

30

135

φ75

15

85

30

135

φ75

20

G3/4

100

37

144

φ75

25

G1

100

37

144

φ75
chinayongjiu@hotmail.com
trade@chinayongjiu.cn
chinayongjiu